Swami Vivekananda is famous inspiring personality beings belong from India. Find here best Swami Vivekananda Quotes with Pictures, inspirational thoughts, messages and sayings about life, spiritual, success, love, positive, inspirational, education, action and other topics. Swami Vivekananda, born Narendranath Dutta, was an Indian Hindu monk and chief disciple of the 19th-century Indian mystic Ramakrishna.

Swami Vivekananda Quotes
1) Arise, awake, stop not until your goal is achieved.
2) Take up one idea. Make that one idea your life – think of it, dream of it, and live on that idea. Let the brain, muscles, nerves, every part of your body, be full of that idea, and just leave every other idea alone. This is the way to success that is way great spiritual giants are produced.
3) All love is expansion, all selfishness is contraction. Love is therefore the only law of life. He who loves lives, he who is selfish is dying. Therefore love for love's sake, because it is law of life, just as you breathe to live.
4) The great secret of true success, of true happiness, is this: the man or woman who asks for no return, the perfectly unselfish person, is the most successful.
5) The greatest religion is to be true to your own nature. Have faith in yourselves.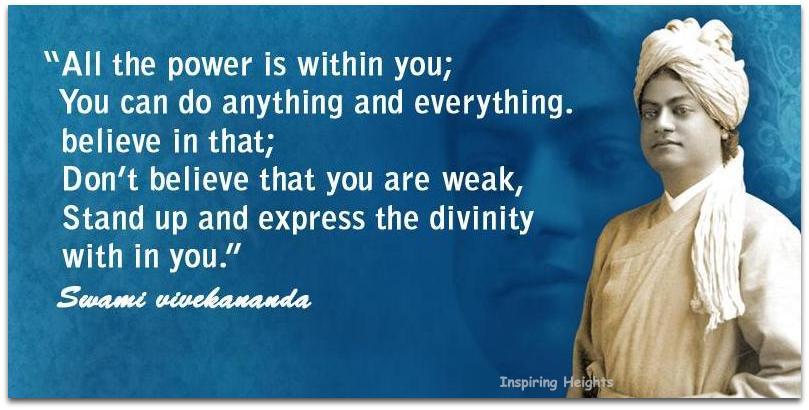 6) Comfort is no test of truth. Truth is often far from being comfortable.
7) They alone live, who live for others.
8) Neither seeks nor avoids, take what comes.
9) Man is to become divine by realizing the divine. Idols or temples, or churches or books, are only the supports, the help of his spiritual childhood.
10) Each work has to pass through these stages—ridicule, opposition, and then acceptance. Those who think ahead of their time are sure to be misunderstood.
11) We came to enjoy; we are being enjoyed. We came to rule; we are being ruled. We came to work; we are being worked. All the time, we find that. And this comes into every detail of our life.
Inspiring Swami Vivekananda Quotes
1) 3 Golden Rules of Swami Vivekananda
Who is Helping You, Don't Forget them.
Who is Loving you, Don't Hate them .
Who is Believing you, Don't Cheat them.
2) Anything that makes you weak physically, intellectually and spiritually, reject as poison.
3) Talk to yourself at least once in a Day
Otherwise you may miss a meeting with an EXCELLENT person in this World.
4) Relationships are more important than life , but it is important for those relationships to have life in them.
5) You have to grow from the inside out. None can teach you, none can make you spiritual. There is no other teacher but your own soul.
6) Like me or Hate me, both are in my favor, If you like me I am in your Heart, If you hate me I am in your mind.
7) By the study of different religions we find that in essence they are one.
8) Where can we go to find God if we cannot see Him in our own hearts and in every living being.
9) Fill the brain with high thoughts, highest ideals place them day and night before you and out of that will come great work.
10) Where can we go to find God if we cannot see Him in our own hearts and in every living being.
11) The brain and muscles must develop simultaneously. Iron nerves with an intelligent brain — and the whole world is at your feet.
12) The moment I have realized God sitting in the temple of every human body, the moment I stand in reverence before every human being and see God in him – that moment I am free from bondage, everything that binds vanishes, and I am free.
13) All truth is eternal. Truth is nobody's property; no race, no individual can lay any exclusive claim to it. Truth is the nature of all souls.
14) Even when you sleep, keep the sword of discrimination at the head of your bed, so that covetousness cannot approach you even in dream.
15) Condemn none: if you can stretch out a helping hand, do so. If you cannot, fold your hands, bless your brothers, and let them go their own way.
16) Our first duty is not to hate ourselves, because to advance we must have faith in ourselves first and then in God. Those who have no faith in themselves can never have faith in God.
Quotes about Action
1) Look upon every man, woman, and everyone as God. You cannot help anyone, you can only serve: serve the children of the Lord, serve the Lord Himself, if you have the privilege.
2) The will is not free – it is a phenomenon bound by cause and effect – but there is something behind the will which is free.
3) There is no limit to the power of the human mind. The more concentrated it is, the more power is brought to bear on one point.
4) Even the greatest fool can accomplish a task if it were after his or her heart. But the intelligent ones are those who can convert every work into one that suits their taste.
5) The world is ready to give up its secrets if we only know how to knock, how to give it the necessary blow. The strength and force of the blow come through concentration.
6) The Land where humanity has attained its highest towards gentleness, towards generosity, towards purity, towards calmness – it is India.
7) This is the first lesson to learn: be determined not to curse anything outside, not to lay the blame upon anyone outside, but stand up, lay the blame on yourself. You will find that is always true. Get hold of yourself.
8) This I have seen in life—those who are overcautious about themselves fall into dangers at every step; those who are afraid of losing honor and respect, get only disgrace; and those who are always afraid of loss, always lose.
9) I, for one, thoroughly believe that no power in the universe can withhold from anyone anything they really deserve.



Swami Vivekananda Quotes Gallery